One of the most use type of document is now the PDF file so we thought that it will be very helpful for you to be able to highlight and save as snippet all the important information from your favorite PDFs.
Highlight PDF files online
With Snippet it is easy to highlight text on any PDF file that you open online, in your Chrome or Firefox browser. This is a free feature to all Snippet users.
Just open the PDF file of interest in the browser, make sure your Snippet icon is on

and start highlighting.
All information will be saved on a new tab in you dashboard called PDF files. All your snippets created from PDF files will have the same features as your Kindle or web snippets. The snippets can be moved, edited, deleted and you can always go back to the source.
Just have fun highlighting with Snippet!
Upload and Highlight personal PDF files
Snippet also gives the possibility to highlight your personal PDF files. You just upload the documents on to your Snippet account, from your dashboard and highlight.
In order to assure the proper upload of the document on Snippet PDF viewer please click twice on the Snippet extension icon

even if the extension is ON.
In order to delete PDF files highlighted information you have two possibilities: delete PDF and keep snippets or delete PDF and snippets.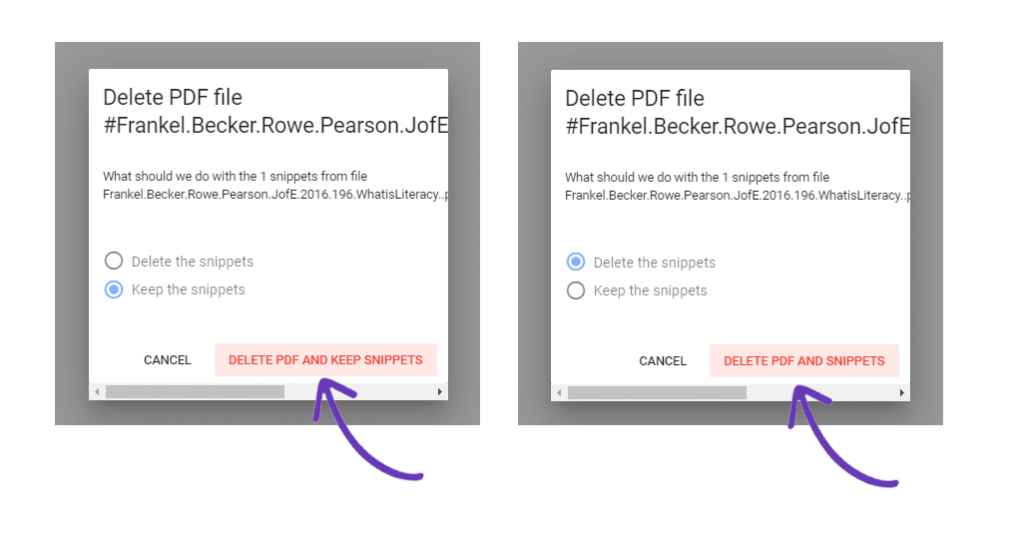 Enjoy!
Having saved all this precious information a little bit of organizing is required. See how to organize your snippets!
---
Need More Help?
If you're having trouble with Snippet, please contact us at hi@gosnippet.com